Productive longevity of Ukrainian Black-and-White dairy cows depending on the inheritance of Holstein sires
Keywords:
Ukrainian Black-and-White dairy, sires, lifetime productivity, breed, genotype.
Abstract
Research study on productive longevity of cows were conducted on the basis of Pidlisnivka breeding farm of PE "Burynske" branch of Pidlisnivka department in Sumy district. Estimation of Holstein sires was carried out on the daughter livestock in three groups of crossbred cows with a conditional blood share of improving breed: 62.6-75.0; 75.1-87.5; 87.6-93.75% and purebred animals. The experimental offspring of breeders Leros 909528547 and V. Astronomer 2160438 under identical conditions of use showed an inadequate realization of their inheritance in the process of absorbing build-up of the conditional blood of improving breed. It was found that with increase of Holstein blood in daughter offspring of both sires with each subsequent generation lifetime and productive use decreased. The bull Leros proved himself as prepotent sire in comparison with W. Astronomer. The daughters of Leros, with the growth of blood by Holstein breed, with each successive generation increased lifetime productivity of milk and fat yield while reducing fat content in milk. In daughters of bull V. Astronomer in a similar situation, indicators of lifetime milk productivity decreased with increasing Holstein inheritance of each succeeding generation.
References
1. Basovskiy, N. Z., 1983. Populyatsionnaya genetika v selektsii molochnogo skota [Population genetics in selective breeding of dairy cattle]. Moskva: Kolos.
2. Grashin, V. A. and Grashin, A. A., 2012. Molochnaya produktivnost' i prodolzhitel'nost' khozyaystvennogo ispol'zovaniya korov cherno-pestroy porody v zavisimosti ot krovnosti po golshtinam [Milk productivity and duration of economic use cows Black-and-White breed depending on conditional blood of Holstein. Izvestiya Orenburskogo gosudarstvennogo agrarnogo universiteta, issue 35–1, vol. (3), pp. 113–114.
3. Klopenko, N. I. and Stavets'ka, R. V., 2015 Henetychna determinatsiia hospodarskoho vykorystannia koriv molochnoho napriamu produktyvnosti za vbyrnoho skhreshchuvannia. [Genetic determination of economic use cows of the dairy direction of productivity by absorbing crossing]. Tekhnolohiia vyrobnytstva i pererobky produktsii tvarynnytstva: Zb. nauk. prats Bilotserk. nats. ahrar. un-ta. Bila Tserkva, issue 1, pp. 23–28.
4. Mazur, N. P., Fedorovych, Ye. I. and Fedorovych, V. V., 2018. Produktyvne dovholittia molochnoi khudoby za riznykh metodiv rozvedennia [Productive longevity of dairy cattle by different breeding methods]. Rozvedennia i henetyka tvaryn, issue 55, pp. 102-112.
5. Merkur'eva, E. K., 1970. Biometriya v selektsii i genetike sel'skokhozyaystvennykh zhivotnykh [Biometrics in the selection and genetics of farm animals]. Moskva: Kolos.
6. Novak, I. V., 2016. Vplyv henotypu na tryvalist produktyvnoho vykorystannia koriv ta prychyny yikh vybuttia [Influence of genotype on the duration of cows productive use and reasons of their disposal]. Naukovyi visnyk LNUVMBT im. S. Z. Gzhytskoho, vol. 18, no. 2(67), pp. 292-295.
7. Pelekhatyy, M. and Kochuk-Yashchenko, O., 2014. Otsinka buhaiv za molochnoiu produktyvnistiu i eksteriernymy osoblyvostiamy dochok [Assessment of bulls by milk productivity and exterior features of daughters]. "Animal husbandry of Ukraine", vol. 2, no. 3, pp. 210–225.
8. Pelekhatyi, M. S., Shypota, N. M., Volkivska, Z. O. and Fedorenko, T. V., 1999. Vidtvoriuvalna zdatnist chorno-riabykh koriv riznoho pokhodzhennia i henotypiv v umovakh Ukrainskoho Polissia. Mizhnarodna naukovo-vyrobnycha konferentsiia "Selektsiino-henetychni ta biotekhnolohichni metody konsolidatsii novostvorenykh porid i typiv silskohospodarskykh tvaryn" [Reproductive ability of Black-and-White cows of different origin and genotypes in the conditions of Ukrainian Polissya. International research and production conference "breeding-genetic and biotechnological methods of consolidation of newly created breeds and types of farm animals"]. K.: Ahrarna nauka, pp. 180-182.
9. Petrenko, I. P., M. V. Zubets', and V. P. Burkat., 1999. Pleminna tsinnist tvaryn i zakonomirnist yii uspadkuvannia [Pedigree value of animals and regularity of its inheritance]. Visnyk ahrarnoyi nauky, no. 8, pp. 45–53.
10. Pidpala, T. V., 2005. Henezys porodnoho peretvorennia v populiatsii chervonoi stepovoi khudoby: monohrafiia [Genesis of breed transformation in the population of red steppe cattle: monograph]. Mykolaiv: MDAU.
11. Pidpala, T. V., Zaitsev, Ye. M. and Pravda, A. O., 2019. Rezultaty vykorystannia buhaiv-plidnykiv holshtynskoi porody pry stvorenni vysokoproduktyvnoho stada [The results of the use of sires Holstein breed in creating highly productive herd]. Visnyk Poltavskoi derzhavnoi ahrarnoi akademii, no 1, pp. 169–180.
12. Polupan, Yu. P., 2005. Metody otsinky prepotentnosti tvaryn. Metodyky naukovykh doslidzhen iz selektsii, henetyky i biotekhnolohii u tvarynnytstvi [Methods for assessing the prepotency of animals. Research methods for breeding, genetics and biotechnology in animal husbandry]. Kyiv: Ahrarna nauka, pp. 61-75.
13. Polupan, Yu.P., 2010. Metodyka otsinky selektsiinoi efektyvnosti dovichnoho vykorystannia koriv molochnykh porid. Metodolohiia naukovykh doslidzhen z pytan selektsii, henetyky ta biotekhnolohii u tvarynnytstvi [Method of assessing the breeding efficiency of lifetime use cows of dairy breed. Methodology of scientific research on breeding, genetics and biotechnology in animal husbandry]. Materialy naukovo-teoretychnoi konferentsii, prysviachenoi pamiati akademika UAAN Valeriia Petrovycha Burkata (Chubynske, 25 liutoho 2010 roku). K.: Ahrarna nauka, pp. 93–95.
14. Prokhorenko, P. N., 2005. Potentsial molochnogo skota. Luchshie v Evrope stada - v Leningradskoy oblasti [Potential of dairy cattle. The best herds in Europe - in the Leningrad region]. Zhivotnovodstvo Rossii, no. 1, pp. 29–31.
15. Khaertdinov, I. M., 2016. Vliyanie bykov-proizvoditeley na skorost' rosta molodnyaka i dal'neyshuyu molochnuyu produktivnost' korov [Effect of sires on the rate of growth of young animals and further milk productivity of dairy cows]. Vestnik Mariyskogo gosudarstvennogo universiteta, vol. 2, no. 3(7), pp. 64–67.
16. Khmelnychyi, L. M. and Bardash, D. O., 2019. Indicators longevity of cows Ukrainian Red-and-White dairy breed depending on a share of inheritance of Holstein breed [Pokaznyky dovholittia koriv ukrainskoi chervono-riaboi molochnoi porody zalezhno vid chastky spadkovosti holshtynskoi porody]. Visnyk Sumskoho natsionalnoho ahrarnoho universytetu. Seriia «Tvarynnytstvo», issue 4(39), pp. 13-19. doi: https://doi.org/10.32845/bsnau.lvst.2019.4.2.
17. Khmelnychyi, L. M. and Loboda, V. P., 2014. Udoskonalennia stada z rozvedennia ukrainskoi chervono-riaboi molochnoi porody za pokaznykamy dovichnoi produktyvnosti [Improving the herd for breeding Ukrainian Red-and-White dairy breed for lifetime productivity indicators]. Visnyk Sumskoho natsionalnoho ahrarnoho universytetu. Seriia: «Tvarynnytstvo», issue 2/1 (24), pp. 91-97.
18. Khmelnychyi, L. M. and Salohub, A. M., 2010. Faktychnyi proiav pleminnoi tsinnosti buhaiv-plidnykiv v realnykh umovakh [The actual manifestation of the breeding value of sires in the real world]. Tvarynnytstvo Ukrainy, no. 9, pp. 28-30.
19. Pantelic, V. and Plavsic M., 2011. The evaluation of breeding value of simmental bulls for milk performance in Serbia. January Biotechnology in Animal Husbandry, no. 27(2), pp. 127-135. doi: 10.2298/BAH1102127P.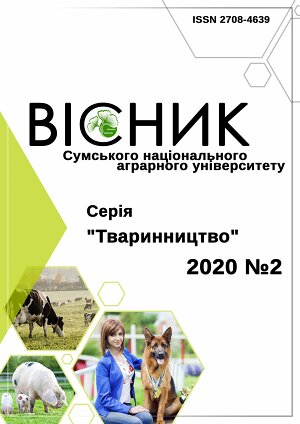 How to Cite
Khmelnychyi , S., Povod , N., & Samokhina , E. (2020). Productive longevity of Ukrainian Black-and-White dairy cows depending on the inheritance of Holstein sires. Bulletin of Sumy National Agrarian University. The Series: Livestock, (2 (41), 81-85. https://doi.org/10.32845/bsnau.lvst.2020.2.13