The influence of technological improvement of the methods of providing complete nutrition of pigs on biochemical indicators of blood
Keywords:
piglets, blood, opsono-phagocytic reaction, haemoglobin, leukocytes, feed additive, concentrated feed, recipe, ration.
Abstract
The results of the influence of the developed balancing feed additives in the composition of small - component compound feeds made on the developed unit on the morphological and biochemical composition of the blood of piglets are highlighted. The study of the effectiveness of the use of balancing additives in the composition of small-component feed produced on the developed unit, was carried out in experimental studies to determine their productive effect on the main economic and useful characteristics of piglets on rearing. The recipe of the developed balancing additives and compound feed on the basis of a grain part from wheat and barley was carried out in production conditions on piglets of breed Welsh (2-4 months) with live weight from 20 kg to 40 kg on balanced rations on all nutrients: protein, carbohydrates, fats, minerals, vitamins, enzymes and others. The experimental groups of piglets differed in the grain part of the feed and the developed composition of BVMD for each group separately: I experimental group - barley + BVMD №1, II experimental - barley + wheat + BVMD №2, III experimental - wheat + BVMD №3, IV control - on economic diet based on barley grits. The results of the study of protein and protein fractions of blood indicate that the change in the level of total protein in the blood is observed in all groups only with age and corresponds to the physiological norm, without significant differences between experimental and control animals. At 2 months of age, the content of total protein in the serum was at the level of 6.21 g% to 6.69 g% with an incredible difference between the groups. Compared with him, at 4 months of age, he increased from 6.34 g% to 7.25 g%. There was a tendency to increase the content of albumin, alpha, beta and gamma globulins with age in all groups. The results of the study of lysozyme activity showed a decrease with age in groups I and II in 0.88 times and 0.93 times and an increase in groups III and IV in 1.04 and 1.28 times. The probable difference in lysozyme activity was in 2 months of groups I and III at P> 0.90 compared with the control. The obtained data on the morphological and biochemical composition of the blood of piglets when grown in terms of hemoglobin and erythrocytes showed that a more productive group of animals tended to increase. Age changes of other indicators corresponded to a physiological condition and did not go beyond physiological norms. Indicators of protein fractions and opsono-phagocytic reactions.
References
1. Tsarenko, O. M., Kryatova, R. E., Bondarchuk, L. V., 2004. Resursozberihayuchi tekhnolohiyi vyrobnytstva svynyny: teoriya i praktyka: navchal`nyy posibnyk. [Resource-saving technologies of pork production: theory and practice: textbook.] Sumy. Universytet·s`ka knyha, 269.
2. Demchuk, O. V, .Tsihorlash, D. V., Levchenko, M. V., 2004. Udoskonalennya tekhnolohiyi vyrobnytstva kormiv v ekspandovanomu vyhlyadi ta efektyvnist` yikh vykorystannya pid chas vidhodivli svyney [Improvement of technology of production of forages in the expanded kind and efficiency of their use during fattening of pigs]. Tavriys`kyy naukovyy visnyk, № 109(2). pp. 28-34.
3. Zaytsev, V., Maystrenko, A., 2016. Ustatkuvannya dlya vyhotovlennya kormovykh dobavok ta kombikormiv [Equipment for the manufacture of feed additives and feed]. Tvarynnytstvo Ukrayiny. no.11-12 pp.18-19.
4. Ryzhov, S., 2000. Novyye razrabotki po prigotovleniyu kombikormov i kormovykh smesey v khozyaystvakh [New developments for the preparation of feed and feed mixtures on farms]. Kombikorma. no. 7. pp. 15-17.
5. Vasil'yeva, Ye. A. 1982. Klinicheskaya biokhimiya sel'skokhozyaystvennykh zhivotnykh [Clinical biochemistry of agricultural animals]. M: Rossel'khozizdat, 254.
6. Kutikov, Ye. S., Milyutina, Ye. I. 1992. Novyy pokazatel' sostoyaniya yestestvennoy rezistentnosti i metod yego opredeleniya [A new indicator of the state of natural resistance and a method for its determination]. Nauchno-tekhnicheskiy byulleten' UIZH. 62. Khar'kov. S. 20-27.
7. Pokrovskiy, A. A., 1969. Biokhimicheskiye metody issledovaniy v klinike [Biochemical research methods in the clinic]. M. pp. 345-349.
8. Eydigevich, Ye. V., Rayevskaya, V. V., 1978. Inter'yer sel'skokhozyaystvennykh zhivotnykh. M.: Kolos, 255 p.
9. Vohnivenko, L. P., Novikova, N. V., Arkhanhel`s`ka, M. V., Papakina, N. S., Kushnerenko, V. H., Lisna, T. M., Ferens, T. O., 2015. Zv'yazok mizh biokhimichnymy pokaznykamy krovi svyney riznoyi stresostiykosti iz yikh vidhodivel`nymy yakostyamy v umovakh plemzavodu ZAT "Fridom farm bekon" [Relationship between biochemical parameters of pig blood of different stress resistance with their fattening qualities in the conditions of the breeding plant of CJSC "Freedom Farm Bacon"]. Naukovyy visnyk "Askaniya-Nova". V. 8. pp. 183-191.
10. Tserenyuk, O. M., Akimov, O. V., Bobryts`ka, O. M., Khokhlov, A. M., Susol, R. L., Miroshnykova, O. S., Martynyuk, I. M., Paliy, A. P., Paliy, A. P., Chalyy, O. I., 2020. Pidvyshchennya henetychnoho potentsialu produktyvnosti v svynarstvi Ukrayiny : monohrafiya. – Kharkiv: FOP Brovin O. V. 282.
11. Tsereniuk, O. M., Bobrytska, O. M., Miroshnikova, O. S., & Danchuk, O. V., 2020. DNA-type results of Landrace sows for RYR1-gene and its association with productivity. Regulatory Mechanisms in Biosystems, 11(3), 431-437. DOI: https://doi.org/10.15421/022066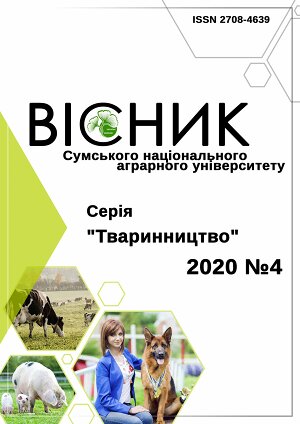 How to Cite
Kosov , M., & Kapitonova , O. (2020). The influence of technological improvement of the methods of providing complete nutrition of pigs on biochemical indicators of blood. Bulletin of Sumy National Agrarian University. The Series: Livestock, (4(43), 45-49. https://doi.org/10.32845/bsnau.lvst.2020.4.7