Current state and prospects of development of tribal resources of pigs in Ukraine
Keywords:
pig breeding, breed, livestock, breeding boars, sows.
Abstract
The development of pig breeding is one of the promising and strategic industries of our country. However, despite the demand for pig products by domestic buyers, the market for these products is unstable and constantly needs government support. A separate difficult issue is the deprivation or assignment of the status of a subject of tribal breeding. The main reason is the lack of demand for breeding products and unprofitable production. Therefore, the aim of our research was to analyze and highlight the current state of breeding tribal pigs in Ukraine, the characteristics of domestic breeds of pigs, which could be basis for breeding in Ukraine and forecasting their importance in the breeding process. The State Register of Breeding Entities in Animal Husbandry for 2005-2020 was used to analyze the state of pig breeding development in Ukraine. The analysis of the state of development of breeding pig breeding in Ukraine is carried out. It is shown that in the conditions of a long crisis for the last 15 years tribal pig breeding in Ukraine has undergone a significant reduction in the number of livestock, narrowing of the breed structure and change of ownership. From 2005 to 2012, the breeding pig population remained relatively stable. In 2014, part of the breeding herd remained in the uncontrolled territory of Donetsk and Luhansk regions and the Crimea, so the official statistics of tribal pigs in Ukraine for the year decreased by 72.6 thousand heads. During the period of 2014-2017, the number of breeding stock has stabilized at the level of 350-340 thousand heads, but since 2018 there has been a rapid reduction. Breeding farms in the West of Ukraine in the Zakarpattya region, in the North - in the Zhytomyr and Rivne regions have ceased to exist in the last two years. In the central region of Ukraine breeding of tribal pig is most developed in Poltava region and has acounted19.8 thousand heads. Thus, as of the beginning of 2020, the breeding population of pigs in Ukraine has decreased by 70% -77% compared to 2012-2010. Leaders in terms of the number of tribal pigs are Ternopil, Zaporizhya, Dnipropetrovsk, Poltava, Lviv regions. Currently, the breeding base of pig breeding in Ukraine consists of 72 farms, where 151,726 thousand heads of pigs of 10 breeds are bred: Large White, Duroc, Landrace, Pietren, Poltava meat, Welsh, Ukrainian meat, Ukrainian steppe white, Ukrainian steppe speckled, Red and White belted. The most numerous breeds in terms of tribal stock are the Large white and the Landrace.
References
1. Derzhavna sluzhba statystyky Ukrainy [State Statistics Service of Ukraine]. Available at : http://www.ukrstat.gov.ua
2. Hetia A.A. Orhanizatsiia selektsiinoho protsesu v suchasnomu svynarstvi: Monohrafiia [Organization of the selection process in modern pig breeding:]/ Hetia A A. – Poltava: Poltavskyi literator, 2009. – 192 p
3. Povod, M.H., Khramova, O.M. (2017). Vidtvoriuvalna zdatnist svynomatok zarubizhnoi selektsii v umovakh intensyvnoi tekhnolohii [Reproductive ability of sows of foreign breeding in conditions of intensive technology]. Visnyk Sumskoho natsionalnoho ahrarnoho universytetu. Seriia: Tvarynnytstvo, 5(2), P119 – 122.
4. Pryjma, S. V. ed., 2013. Derzhavnyj reyestr subyektiv pleminnoyi spravy u tvarynnycztvi za 2012 rik [State register of subjects of breeding business in animal husbandry for 2012]. Kyiv: Ukraine.derjplemreestr_tom2_2012.pdf (animalbreedingcenter.org.ua)
5. Pryjma, S. V. ed., 2014. Derzhavnyj reyestr subyektiv pleminnoyi spravy u tvarynnycztvi za 2013 rik [State register of subjects of breeding business in animal husbandry for 2013]. Kyiv: Ukraine.derjplemreestr_tom2_2013.pdf (animalbreedingcenter.org.ua)
6. Pryjma, S. V. ed., 2015. Derzhavnyj reyestr subyektiv pleminnoyi spravy u tvarynnycztvi za 2014 rik [State register of subjects of breeding business in animal husbandry for 2014]. Kyiv: Ukraine.
7. Pryjma, S. V. ed., 2016. Derzhavnyj reyestr subyektiv pleminnoyi spravy u tvarynnycztvi za 2015 rik [State register of subjects of breeding business in animal husbandry for 2015]. Kyiv: Ukraine.file://animalbreedingcenter.org.ua/derjplemreestr%20%5b%D0%94%D0%B0%D1%82%D0%B0%20%D0%B7%D0%B2%D0%B5%D1%80%D0%B5%D0%BD%D0%B5%D0%BD%D0%BD%D1%8F%20
8. Pryjma, S. V. ed., 2017. Derzhavnyj reyestr subyektiv pleminnoyi spravy u tvarynnycztvi za 2016 rik [State register of subjects of breeding business in animal husbandry for 2016]. Kyiv: Ukraine.file://animalbreedingcenter.org.ua/derjplemreestr%20%5b%D0%94%D0%B0%D1%82%D0%B0%20%D0%B7%D0%B2%D0%B5%D1%80%D0%B5%D0%BD%D0%B5%D0%BD%D0%BD%D1%8F%20
9. Pryjma, S. V. ed., 2018. Derzhavnyj reyestr subyektiv pleminnoyi spravy u tvarynnycztvi za 2017 rik [State register of subjects of breeding business in animal husbandry for 2017]. Kyiv: Ukraine.file://animalbreedingcenter.org.ua/derjplemreestr%20%5b%D0%94%D0%B0%D1%82%D0%B0%20%D0%B7%D0%B2%D0%B5%D1%80%D0%B5%D0%BD%D0%B5%D0%BD%D0%BD%D1%8F%20
10. Pryjma, S. V. ed., 2019. Derzhavnyj reyestr subyektiv pleminnoyi spravy u tvarynnycztvi za 2018 rik [State register of subjects of breeding business in animal husbandry for 2018]. Kyiv: Ukraine.file://animalbreedingcenter.org.ua/derjplemreestr%20%5b%D0%94%D0%B0%D1%82%D0%B0%20%D0%B7%D0%B2%D0%B5%D1%80%D0%B5%D0%BD%D0%B5%D0%BD%D0%BD%D1%8F%20
11. Pryjma, S. V. ed., 2020. Derzhavnyj reyestr subyektiv pleminnoyi spravy u tvarynnycztvi za 2019 rik [State register of subjects of breeding business in animal husbandry for 2019]. Kyiv: Ukraine.derjplemreestr_tom2_2019.pdf (animalbreedingcenter.org.ua)
12. State Tribal Register 2005, 2006. Kyiv: Ministry of Agrarian Policy of Ukraine. State Scientific and Production Concern Selekciya.
13. State Tribal Register 2010, 2011. Kyiv: Ministry of Agrarian Policy of Ukraine. Ukrplemobyednannya.
14. Tvarynnytstvo Ukrainy: stan, problemy, shliakhy rozvytku (1991 -2017-2030 rr)[ Livestock of Ukraine: state, problems, ways of development]; za red. akad. NAAN M. I. Bashchenka. Kyiv : Ahrarna nauka, 2017.160 p.
15. Vdovenko, N. M., Hryshchenko, N. P., Shepeliev, V. S (2017). Rehuliuvannia rynku svynyny Ukrainy v umovakh yevrointehratsii [Regulation of the pork market of Ukraine in the conditions of European integration]. Kyiv: KondorVydavnytstvo, 371 р.
16. Voloshchuk V. M. (2014). Stan i perspektyvy rozvytku haluzi svynarstva [Status and prospects of the pig industry]. Visnyk ahrarnoi nauky, 2, 17 – 20.
17. Voitenko S.L. Stan ta tendentsii rozvytku svynarstva na pleminnii osnovi / S. L. Voitenko // Naukovyi visnyk "Askaniia-Nova". - 2018. - Vyp. 11. - S. 157-169.| http://www.irbis-nbuv.gov.ua/cgi-bin/irbis_nbuv/cgiirbis_64.exe?I21DBN=LINK&P21DBN=UJRN&Z21ID=&S21REF=10&S21CNR=20&S21STN=1&S21FMT=ASP_meta&C21COM=S&2_S21P03=FILA=&2_S21STR=nvan_2018_11_19
18. Voitenko, S.; Vyshnevskyi, L.; Petrenko, S. Svynovodstvo Ukrayny: эtapy razvytyia, produktyvnost zhyvotnykh y kachestvo produktsyy. In: Zootehnie şi Biotehnologii agricole materialele Simpozionului Ştiinţific Internaţional "85 ani ai Facultăţii de Agronomie – realizări şi perspective", dedicat aniversării a 85 de ani de la fondarea Universităţii Agrare de Stat din Moldova . Vol. 52(2), 25 septembrie 2018, Chișinău. Chişinău, Republica Moldova: Universitatea Agrară de Stat din Moldova, 2018, pp. 126-132. https://ibn.idsi.md/ro/vizualizare_articol/96094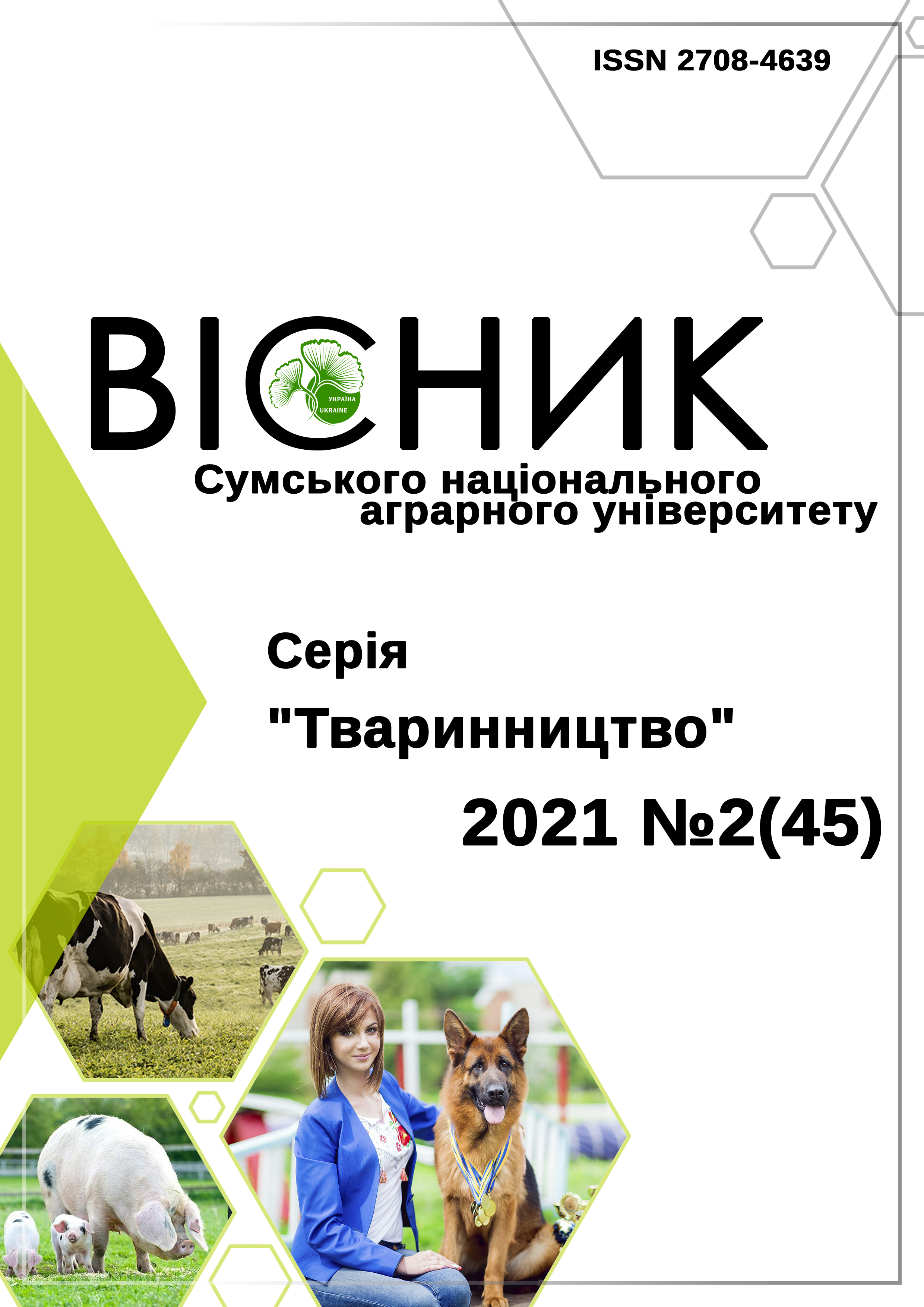 How to Cite
Getya , A., & Suprun , I. (2021). Current state and prospects of development of tribal resources of pigs in Ukraine. Bulletin of Sumy National Agrarian University. The Series: Livestock, (2 (45), 146-152. https://doi.org/10.32845/bsnau.lvst.2021.2.22