A new way of repairing and strengthening sheet steel parts that are have abrasive wear during operation
Abstract
The article describes a technical solution that relates to the field of mechanical engineering and repair of machines, in particular to the restoration and simultaneous strengthening of steel sheet parts, which, depending on the conditions of external influence, various types of abrasive wear. The method involves removing the worn part of the workpiece and replacing it with a separate segment. The segment is also made of sheet material, and connect it to the recoverable part with an integral connection. According to one variant of the technical solution, the segment has a pre-made groove, which is attached to the recoverable part with a pre-made thorn. Strengthening of the recovered part is carried out by the method of electro-erosion alloying (EEA) to achieve the desired hardness of the segment. Before creating an integral connection of the recoverable part and the surface of the groove surface of the segment is covered with metal-polymer material (MPM). According to the second variant of the technical solution, the segment has a pre-made thorn, and the recoverable part is a groove. The technical result of the solution is the absence of grooves, as well as improving the hardness and wear resistance of the recovered and hardened parts in the conditions of intensive abrasive wear, the ability to use as a reducing material wear-resistant metals with any degree of weldability, low energy consumption and environmental safety.
References
1. А. В. Шовкопляс. Дисковые рабочие органы борон: технологии изготовления и восстановления // Лесотехнический журнал 1/2016. - Технологии. Машины и оборудование. С. 203-211.
2. Тарельник В. Б. Экологически безопасный способ восстановления и одновременного упрочнения стальных деталей, изготовленных из металлических листов / В. Б. Тарельник, Б. А. Саржанов // Вісник Національного технічного університету "ХПІ". Сер. : Технології в машинобудуванні = Bulletin of the National Technical University "KhPI". Ser. : Techniques in a machine industry : зб. наук. пр. – Харків : НТУ "ХПІ", 2019. – № 19 (1344). – С. 16-21.
3. Патент РФ на корисну модель 92823, В23К 9/04. Отвал корпуса плуга / С.Н. Прудников А.М. Михальченков / Опубл. 10.04.2010 Бюл. №10.
4. Патент РФ 2533957, В23Р 6/00, А01В 15/04. Способ востановления и упрочнения отвала корпуса плуга / А.М. Ми-хальченков / Опубл. 27.11.2014 Бюл. №33.
5. Эксплуатация систем водоснабжения, канализации и газоснабжения. Справочник. Авторы-составители: В.Д. Дмитриев, Д.А. Коровий, А. И. Кораблев, Г. П. Медведев, Б.Г. Мишуков, М.П. Наумов, Г.С. Чистова // Стройиздат, Ленин-градское отделение, 1988, 384 с.
6. Саржанов О.А., Саржанов Б.О. Аналіз методів ремонту відповідальних деталей центрифуг для стічних вод. Вісник Сумського національного аграрного університету. Серія «Механізація та автоматизація виробничих процесів», випуск 10/3 (31), 2016.- С. 58-62
7. Лившиц С.П. Высоконапорные дутьевые машины центробежного типа.- Л.: Машиностроение, 1976.- 295 с.
8. Патент України на корисну модель № 115676, МПК В23Н 5/00. Спосіб відновлення зношених поверхонь металевих деталей / В.Б. Тарельник, В. С. Марцинковський, О. Г. Павлов / Опубл. 25.04.2017, Бюл. № 8. - 15 с.
9. Патент України на корисну модель № 131805, МПК В23Н 5/02. Спосіб відновлення зношених поверхонь деталей машин з нержавіючої сталі / В.Б. Тарельник, В. С. Марцинковський, О.П. Гапонова, Є.В. Коноплянченко, Б.О. Саржанов / Опубл. 25.01.2019, Бюл. № 2. - 21 с.
10. Патент України на корисну модель, (позитивне рішення 18.12.2019 №u201909105) МПК В23Н 5/02. Спосіб віднов-лення і одночасного зміцнення деталей з листової сталі, що піддаються абразивному зносу в процесі експлуатації / В.Б. Тарельник , В.С. Марцинковський, А.В. Белоус , О.А. Саржанов, О.О. Гапон, Б.О. Саржанов , А.О. Прокопенко.
11. Патент України на корисну модель, (позитивне рішення 18.12.2019 №u201909103) МПК В23Н 5/02. Спосіб віднов-лення і одночасного зміцнення деталей з листової сталі, що піддаються абразивному зносу в процесі експлуатації / В.Б. Тарельник , В.С. Марцинковський, А.В. Белоус , О.А. Саржанов, О.О. Гапон, Б.О. Саржанов , А.О. Прокопенко.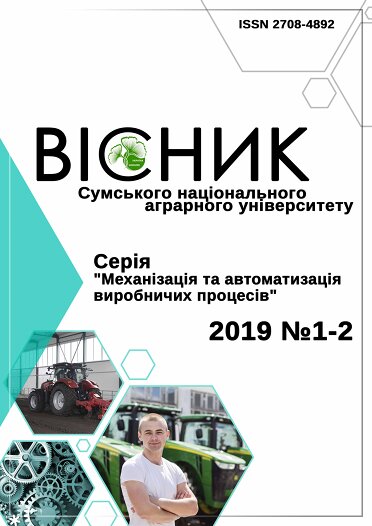 How to Cite
Tarelnyk , V., Sarzhanov, B., & Gapon, O. (1). A new way of repairing and strengthening sheet steel parts that are have abrasive wear during operation. Bulletin of Sumy National Agrarian University. The Series: Mechanization and Automation of Production Processes, (1-2(35-36), 18-24. https://doi.org/10.32845/msnau.2019.1-2.4
This work is licensed under a Creative Commons Attribution 4.0 International License.