Factors affecting the depth of soil treatment by disc harrows
Keywords:
disc harrow, tillage, speed of movement, angle of attack, depth of cultivation.
Abstract
In the article researched the requirements for machines with disk working parts which are using today. According to the results of the research, it has been proved that some indicators have lost their relevance and are not necessary in modern conditions, because they are replaced by electronic control systems.
In the materials of the article indicators of work of machine units in field conditions at cultivation of soil by disk working bodies in different farms of Sumy region are given. Machines of domestic production are researched: T-150+UDA-2,4, HTZ 17221+UDA-3,1, HTZ 17221+UDA-3,8. During the study of the performance of machine units in the performance of disking used different techniques and instruments that maximize the accuracy of research.
The aim was to explore the existing and alternative ways of regulating the depth of cultivation by machines with disk working parts. Thus, we conducted research and obtained results on adjusting the depth of the speed of the disk, changing the angle of attack of the working batteries.
The analysis of the experimental data has made it possible to determine the optimal parameters of the speed of movement of the tillage unit and the angles of attack at which it is possible to perform the technological process of disc tillage from the performance indicators that will meet the agro-requirements.
References
1. Дегусаров А. Вітчизняна техніка для загортання рослинних решток [Електронний ресурс] / А. Дегусаров, А. Мазуренко, К. Дорошенко // Аграрний сектор України. – 2018. – Режим доступу до ресурсу: http://agroua.net/technics/articles/index.php?aid=33
2. Сільськогосподарські та меліоративні машини: Підручник / [Д. Г. Войтюк, В. О. Дубровін, Т. Д. Іщенко та ін.]. – Київ: Вища освіта, 2004. – 544 с.
3. Смолінський С. Фактори, що визначають якість роботи дискових знарядь [Електронний ресурс] / С. Смолінський, В. Марченко // AGROEXPERT. – 2016. – Режим доступу до ресурсу: https://www.agroexpert.ua/ru/faktori-so-viznacaut-akist-roboti-diskovih-znarad.
4. Дискові борони причіпні [Електронний ресурс] – Режим доступу до ресурсу: https://www.bcmaz.com.ua/ua/catalog/agregaty_diskovye_pritsepnye_uda_dich/.
5. Тракторы ХТЗ-17021 и ХТЗ-17221. Руководство по експлуатации 170.00.000 РЭ [Електронний ресурс]. – 2017. – Режим доступу до ресурсу: http://xtz.ua/files/pdf/170172.pdf.
6. Орманджи К. С. Контроль качества нолевых работ. Справочник. / К.С. Орманджи// М.: Росагропромиздат, 1991.— 191 с.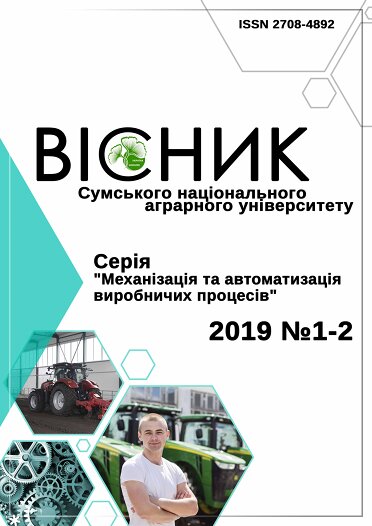 How to Cite
Zubko, V., & Sokolik, S. (1). Factors affecting the depth of soil treatment by disc harrows. Bulletin of Sumy National Agrarian University. The Series: Mechanization and Automation of Production Processes, (1-2(35-36), 49-53. https://doi.org/10.32845/msnau.2019.1-2.9
This work is licensed under a Creative Commons Attribution 4.0 International License.