MAIN TENSIONS IN THE SOIL UNDER TRACTOR WHEELS
Keywords:
machine-tractor unit, wheels, soil compaction.
Abstract
The article proposes a method of determining the patterns of a distribution of stresses and strains in the array. It allows to determine the depth and degree of compaction of a particular type of technology and to make rational selection of it for specific conditions. Also, the data obtained in the article make it possible to select the right equipment for tillage.
References
1. Zotsenko M, Kovalenko V (2003): Engineering geology. Soil mechanics, foundations and foundations: a textbook. Poltava, PNTU, 554.
2. Kravchenko V (1986): Soil compaction by machines. Alma-Ata, Science, 96.
3. Samus V (1982): Fundamentals of the theory of elasticity and plasticity. Moskow, Higher School, 264.
4. Teregulov I (1984): Resistance of Materials and Fundamentals of Theory of Elasticity and Plasticity. Moskow, Higher School, 472.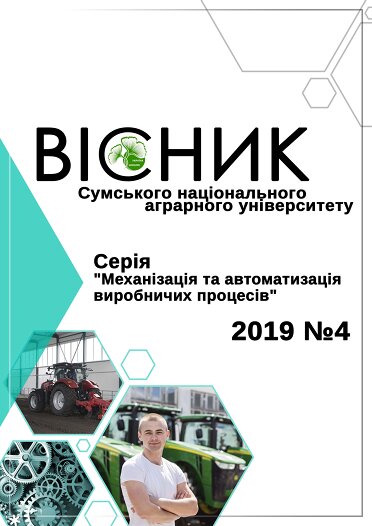 How to Cite
Solarov, O., & Perepichay, S. (1). MAIN TENSIONS IN THE SOIL UNDER TRACTOR WHEELS. Bulletin of Sumy National Agrarian University. The Series: Mechanization and Automation of Production Processes, (4 (38), 14-18. https://doi.org/10.32845/msnau.2019.4.3
This work is licensed under a Creative Commons Attribution 4.0 International License.