Ecology-economic estimation of damage from water pollution
Keywords:
environment, reservoir, water pollution, concentration background, migration, ecological and economic assessment, harmful components, mineral fertilizers
Abstract
The society is suffering significant economic losses due to the incidence of human contamination with environmental pollution. There are two main steps to be taken when assessing damage and planning security measures: 1) direct calculation of various financial and other types of damage, and 2) marketing analysis with minimization of the cost-to-damage ratio. In the latter case, it is necessary to have not only a statistical database of pollution and morbidity monitoring, but also an acceptable optimization model with identified risks of exposure to hazardous pollution factors. In the approach proposed in the article, the procedure for estimation of damage and cost optimization is limited only by the granulation composition of mineral fertilizers and the water protection effect of the prolonged (slow) action of larger granules.
References
1. Надточій П.П. Екологія ґрунту та його забруднення / Надточій П.П., Германенко В.Г., Вольвач Ф.В. – К. : Аграрна наука, 1998. – 286 с.
2. Добрива та їх використання: Довідник. – К. : Арістей, 2010. –254 с.
за фін. підтримки ДП «АГРОЦЕНТР ЄВРОХІМ-УКРАЇНА».
3. Измайлов Р.Р., Голованова О.А. Биорезорбируемость гранулированного композита на основе карбонатгидроксила-патита и желатина в средах с различными значениями pН // Вест. Ом. ун-та. 2015. № 2. С. 61–65.
4. Шандиба О.Б. Застосування методів Ейлера та Лагранжа в прикладних задачах гідродинаміки // Вимірювальна та обчислювальна техніка в технологічних процесах. – № 2 (55). – 2016. – С. 181-185.
5. Шандиба О.Б., Шпетний Д.М. Моделювання динаміки концентраційного фону рухомих забруднень засобами EXCEL // Збірник наукових статей ІХ Міжнародної науково-практичної конференції "Екологічна безпека: проблеми і шляхи вирішення" (9-13 вересня 2013) – Алушта, 2013. – Т. 2. – С. 156-159.
6. Шандиба О.Б., Шандиба І.О., Курило А.О., Шпетний Д.М. Економічна ефективність впровадження заходів охорони праці та довкілля // Технічний сервіс агропромислового та транспортного комплексів. – № 5. – 2016. – С. 188-192.
7. Холин Б.Г., Шандыба А.Б., Хохлов Л.Г. и др. Расчет перфорированных оболочек центробежных и вибрационных грануляторов // Химическая промышленность. – № 4. – 1991. – С. 40-42.
8. Шандиба О.Б., Вакал С.В., Толбатов А.В., Смоляров Г.А. Еколого-технологічні аспекти виробництва та застосуван-ня гранульованих мінеральних добрив // Монографія «Научное окружение современного человека». – 2018. – С. 147-155.
9. Данилов Д.Г. Экспериментальное исследование процесса растворения гранулированного коагулянта // Вестник ИГЭУ, вып. 2, 2008, С.1-4.
10. Шандиба І.О., Кузема О.С., Шандиба О.Б. Оцінювання впливу виробничих факторів на рівень техногенної безпеки // Матеріали VI Міжнародної науково-практичної конференції «Екологічна безпека: проблеми і шляхи вирішення»: – Т.2. – 2010. – С. 147-150.
11. Идентификация опасностей, оценка рисков и управление рисками [Електронний ресурс] // Услуги по охране труда и безопасности в Беларуси и Минске – Режим доступу: http://helper.by/identifikaciya-opasnosteie-i-ocenka-riskov-upravleni.html.
12. A.B.Shandyba, D.M.Shpetny. Pollution migration forecast for soil geochemistry mapping // Geomatics, Landmanagement and Landscape. – № 3. – Poland, Krakow. – december 2015. – Р. 101-112.
13. D.Han, X.Tong, M.G.Kurrel, G.Cao, M.Jin, C.Tong. Evalution of the impact on uncontrolled landfill on surrounded ground-water quality- Journal f Geochemical Exploration (2013), Elsevier-com.
14. D.Russo, A.Laufer, A.Silber, S.Assouline. Water up take, active root volume and solute leaching drip irrigation: A numerical study. – Water resources research, vol.45., W12413, 2009.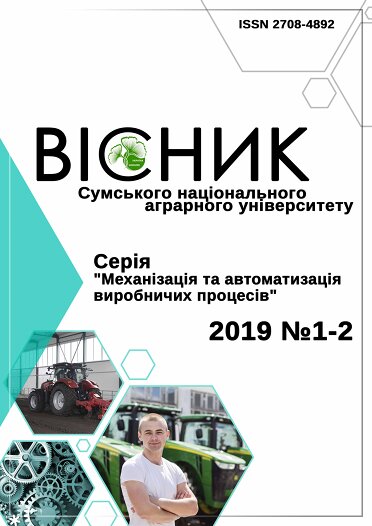 How to Cite
Shandyba , A., Khursenko , S., & Semernya , O. (2019). Ecology-economic estimation of damage from water pollution. Bulletin of Sumy National Agrarian University. The Series: Mechanization and Automation of Production Processes, (1-2(35-36), 3-6. https://doi.org/10.32845/msnau.2019.1-2.1